Intro to Birmingham Health Partners
Birmingham Health Partners (BHP) transcends organisational boundaries to rapidly translate healthcare research findings into new diagnostics, drugs and devices for patients.
It is a strategic alliance between the University of Birmingham and two NHS Foundation Trusts – Birmingham Women's & Children's, and University Hospitals Birmingham – where members collaborate to bring healthcare innovations through to clinical application.
Its unique ecosystem enables the full spectrum of translational medicine: encompassing health data; an established local health system; academic excellence; and an extensive clinical trials capability.
Pioneering and life-changing work takes place across a number of leading facilities, including the Institute of Translational Medicine. BHP's next capital project is Birmingham Life Sciences Park, which will enable productive interactions between clinicians, academics, industry and patients to accelerate the field of personalised, precision medicine.
By enabling integrated, multidisciplinary working, BHP helps bring about answers to complex healthcare issues for the direct benefit of people worldwide.
Our vision is to become a leader in translational medicine and introduce new diagnostics, devices and drugs for the good of patients in the Midlands and beyond
Our mission is to bring healthcare innovations rapidly to clinical application, by harnessing the collaborative research strengths of the University, NHS and industry
Our values
Life-changing
At the heart of what we do are the patients we serve. We want people to live the healthiest lives possible, so we focus on personalised interventions.
Trusted
Our partners are long-established, with a strong heritage of research, development and collaboration – of which our local community is proud and which we continue today.
Searching
Our people are the best and most successful in their field, always seeking improvements and relentless in the pursuit of worthwhile healthcare advances.
Relevant
Our work resonates with the local and clinical/academic community, as we always seek to address the most pressing health burdens where we can have the greatest impact.
Credible
Our partners are renowned for expertise in research, clinical trials, informatics and care. Advances developed in Birmingham have a positive impact worldwide.
Connected
We are part of a well-established, collaborative ecosystem where we train life sciences professionals; identify opportunities for research; validate innovations; and bring them through to application – all on one campus.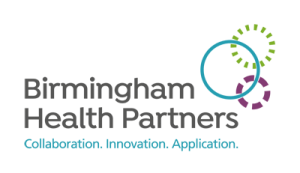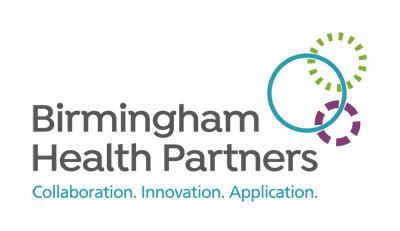 Collaboration
We are greater than the sum of our parts: our inclusive, multidisciplinary teams combine their expertise at all stages of research, development and implementation
Innovation
We are advancing patient care by combining the latest technology with a wide variety of scientific disciplines, to pioneer world-leading solutions to global health issues
Application
Through our partnership, research becomes reality. New treatments are brought from the lab directly through to clinical adoption, reaching patients faster
Greater than the sum of our parts, we exist to benefit our communities, change lives and shape the future of healthcare.