"People-focused research in the NHS simply cannot be delivered without the involvement of patients and the public. No matter how complicated the research or how brilliant the researchers, patients and the public always offer unique, invaluable insight."

– Professor Dame Sally C Davies, Chief Medical Officer and Chief Scientific Adviser, Department of Health and Social Care.
Patient and public involvement and engagement (PPIE or PPI) is different to recruiting suitable individuals to clinical trials or research studies. Rather, it's a partnership between the public and researchers, where research is carried out 'with' or 'by' members of the public, rather than 'to', 'about' or 'for' them. This might include:
Involvement in the choice of research topics
Assisting in the design of a study
Advising on the research project as part of a steering group
Helping to conduct the research, for example interviewing participants
Communicating the project – for example patient information leaflets
Raising public awareness of research through open days or via social media
Why involve patients?
Just as we put our patients at the centre of everything we do in clinical service, they should also sit at the heart of our research – in line with Principle 4 of the NHS Constitution.
It's vital to remember that the perspectives of patients and the public, particularly those who have lived through illness or injury, will be different to ours as health and social care professionals.
Patients have specialised knowledge of disease, their individual pathway from diagnosis to treatment, and how their quality of life was impacted at different stages. They bring experiences of different care providers, and can provide perspectives and lived experience from a cross-section of ages, genders and ethnicities. They are the people who will live with the consequences of research and therefore not only have the right to influence it, but are ideally placed to do so.
For funding bodies, PPIE is a non-negotiable aspect of the research process:
"Applications that are technically excellent but have little patient or public involvement may be asked to address this before an offer of funding is made."

– National Institute for Health Research (NIHR)
Finally, PPIE is known to improve the quality and increase the impact of healthcare research, benefiting the patient, researcher, organisation and funders alike.
All BHP partner organisations want there to be truly two-way influence on the future direction of research, and its translation into benefit for patients across all of our partners. We support our clinicians and academics in this endeavour at every stage.
When and how should I look to involve patients?
Patients can add value at any stage of the research cycle, and can be involved in numerous ways throughout the life of your research project. If you are part-way through a project and haven't yet involved patients, it's never too late. Speak to us about how we can help you to involve them wherever in the cycle your project is at (see below for contact details).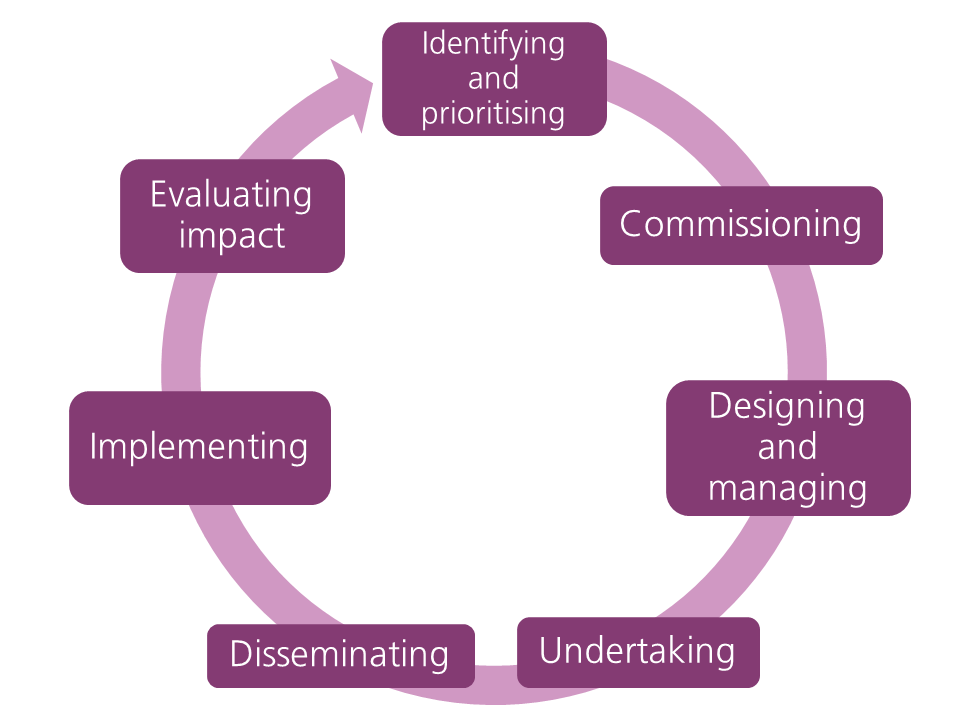 Good quality PPIE is about two-way communication with the public. Involvement and engagement can therefore exist on a continuum rather than being seen as sharply distinct activities. Wellcome has produced an 'onion' diagram featuring layers of different types of activity and how they are categorised – as you move outward from the centre, activity moves from involvement to traditional engagement. Researchers should aim to embed PPIE within several layers of the onion: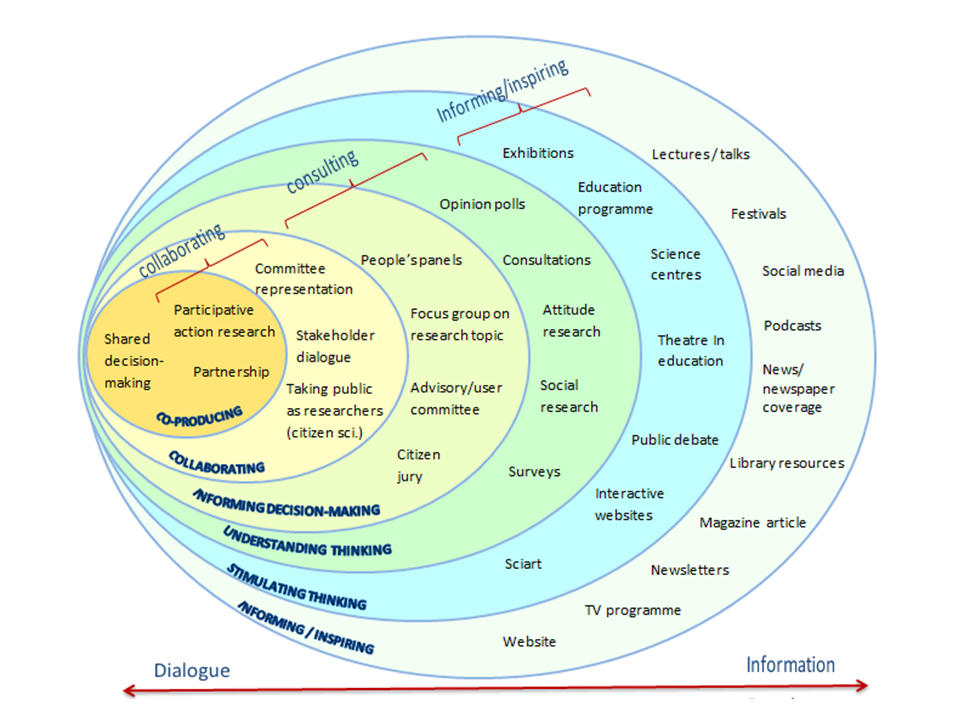 Who can I involve?
Researchers can identify and recruit suitable patients and members of the public in a number of ways:
Direct contact
While academic researchers cannot contact suitable patients themselves, they can ask their collaborating clinicians to do so on their behalf, as they have a legitimate relationship with patients. It is acceptable for clinicians to identify patients with a particular condition – either their own patients or within the same specialty – and send them an invitation to take part in PPIE activity.
Community
NHS Trusts often have a Patient & Carer Council – these are useful places to contact members of the public who are interested in health, and may want to get involved in research. Foundation Trusts in particular may prove beneficial, as individuals motivated to join as a member may also wish to get involved in research. Religious and community groups can also provide opportunities to recruit patients, particularly if they represent a similar demographic to your study – for example, parent and baby groups.
Support groups and charities
Patients who are members of disease support groups or active within charitable organisations may well be interested in contributing further to the understanding of their condition through research. Consider approaching both regional and national organisations within your specialty.
Clinical Research Networks and the NIHR
Many patients are already active research ambassadors or contribute to steering groups, and your local CRN and other NIHR bodies can publicise PPIE opportunities on your behalf.
Social media and online
Many patients are active ambassadors for their disease online. As well as websites such as People in Research, consider engaging with potential PPIE volunteers via relevant hashtags or support pages on social media. Patients may be more likely to post around awareness events, for example sharing content related to breast cancer in October, which is also worth bearing in mind.
Traditional media
Advertising your study via print publications or radio may be beneficial if targeting a particular demographic or region. Alternatively, most hospitals and Universities produce a variety of communications with patients – alumni magazines, trust newspapers etc – which can help reach suitable patients.
How should I manage patient involvement?
"We see two types of PPI in our applications – genuine PPI where it is clear how researchers have worked with patients to plan better research for the NHS, and token PPI where a patient has been drafted in to agree with the team's preconceived ideas. Try to be the former."

– Professor Hywel C Williams, Chair, HTA Commissioning Board
The overarching principles that guide PPIR at BHP are set out by the National Institute for Health Research (NIHR):
Inclusive opportunities – we offer public involvement opportunities that are accessible and that reach people and groups according to research needs
Working together – we work together in a way that values all contributions, and that builds and sustains mutually respectful and productive relationships
Support and learning – we offer and promote support and learning that builds confidence and skills for public involvement in research
Communications – we use plain language for timely, two-way and targeted communications, as part of involvement plans and activities
Impact – to drive improvement, we capture and share the difference that public involvement makes to research
Governance – we involve the public in our governance and leadership so that our decisions promote and protect the public interest
More information can be found about the standards at https://www.invo.org.uk/posttypepublication/national-standards-for-public-involvement/
Where next?
The BHP PPIE team can offer support and guidance at every stage of the research cycle, and run regular virtual drop-in sessions to give further information and open up conversations with researchers. Check our Events calendar for 2021 dates and times and email PPIR@uhb.nhs.uk to book a session on your preferred date.
We have also developed a series of half-day workshops, which are open to patients, members of the public and researchers in any are of health and social care, either preclinical or clinical. These workshops range from an entry-level introduction to PPI, to more detailed sessions on establishing a PPI group, grant writing, and reporting on impact. For more information about training workshops, please email PPIR@uhb.nhs.uk.
To liaise with a member of the team directly, the table below summarises each individual's areas of expertise. They'll need to know:
Your job role and the organisation you work for
If you're applying for a grant (if so, when is the deadline and what is the funding stream)
Whether you need contact with patients with specific experience of a particular health condition, or if any member of the public can contribute
Contact details for our PPI leads are as follows:
Team member
Responsibilities
Contact details
Margaret O'Hara
PPIE in Research Lead
University Hospitals Birmingham (UHB)
Contact for patient groups at UHB including General Public, Audiology, Ophthalmology, Stroke, Thoracics, Cardiology
Margaret.O'Hara@uhb.nhs.uk

0121 371 8210

www.research.uhb.nhs.uk/margaret-ohara/
Laura Chapman
PPIE Manager
NIHR Biomedical Research Centre (BRC)
Inflammatory diseases – sarcopaenia, rheumatoid arthritis, liver disease and Inflammatory Bowel Diseases (e.g. Crohn's Disease and Colitis)
Laura.Chapman2@uhb.nhs.uk

0121 371 8486
 
birminghambrc.nihr.ac.uk/public-involvement/

Twitter: @NIHRBhamBRC
Laura Nice
PPIE Lead
NIHR Surgical Reconstruction and Microbiological Research Centre (SRMRC) and The Scar Free Foundation Centre for Conflict Wound Research (SFF-CfCWR)
Trauma, burns and critical care research
MedTech

L.Nice@bham.ac.uk

0121 371 8533

www.srmrc.nihr.ac.uk/get-involved/information-for-patients/

Magdalena Skrybant
PPIE Lead
NIHR Applied Research Collaboration (ARC) West Midlands
Applied health research at ARC West Midlands – maternal and child health, chronic disease, prevention and detection of youth mental health problems
M.T.Skrybant@bham.ac.uk

0121 414 6026

Twitter: @ARC_WM

Website: NIHR ARC West Midlands

Laura Forty
Patient and Public Engagement Lead (Ageing and Acute Care)
Ageing and Acute Care including PIONEER - the HDR-UK Research Hub for acute care. Integrating information about how acutely unwell people access and use health services to deliver advances in clinical care
L.C.Forty@bham.ac.uk
Further resources
Health Research Authority – Best Practice Guidance for Public Involvement
Oxford Primary Care Sciences – PIRRIST Guidance
Manchester University – Research Handbook
National Institute for Health Research – NIHR INVOLVE