Based within BHP founder member the University of Birmingham, the Drug Discovery Facility enables our scientists to carry out impactful translational science – and is committed to being at the vanguard of academic-led research into the next generation of therapies that will benefit all humankind.
The facility offers two fully-automated drug discovery platforms, housed within the School of Biosciences:
The Biochemical Screening Platform is a fully integrated robotic liquid handling system with the capability and capacity to screen thousands of chemical entities against specific in vitro biochemical assays. This is an extremely flexible system, allowing for bespoke biological assay development. 
The lab also boasts access to a Hitachi F-7000 Fluorescence Spectrophotometer, which can be used for a variety of functions such as fluorometric assay development or to repeat screening experiments in a more low-throughput fashion. 
Also fully integrated, the Phenotypic Screening Platform has the ability to screen a variety of cell type or tissue cultures against a library of chemical entities. This parallel facility allows for the direct tandem studies of compound libraries against cell cultures to detect for resultant biological consequences – such as: cell viability; changes in cell morphology; cell migration; or the sensitive detection of the release or uptake of specific biomarkers.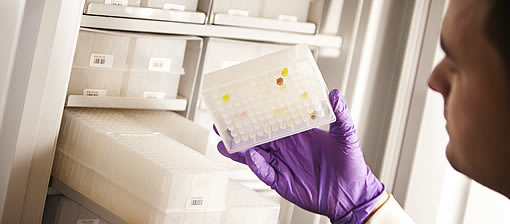 The 'jewels in the crown' of any high-throughput screening laboratory, are the compound collections used in screening experiments. The Drug Discovery Facility holds an in-house, 37,000 lead-like diversity library.
Our Drug Discovery Facility is available for commercial use. Whether your company requires full or partial access to the platforms, or if you have your own compound collections that you would like to put through either of the platforms, we aim to provide a flexible service that can accommodate all your research needs.