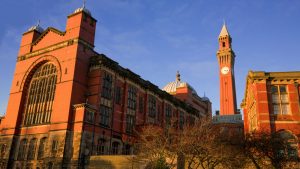 The University of Birmingham is a truly vibrant, global community and an internationally-renowned institution. Ranked among the world's top 100 institutions, its work brings people from across the world to Birmingham, including researchers and teachers and more than 4,000 international students from nearly 150 countries.
The University is home to nearly 30,000 students. With more than 7,500 postgraduate students from across the world, Birmingham is one of the most popular universities for postgraduate study in the UK.
The University plays an integral role in the economic, social and cultural growth of local and regional communities; working closely with businesses and organisations, employing approximately 6,000 staff and providing 10,000 graduates annually. Almost 50% of graduates remain in Birmingham for further study or employment following their first degree.