Are you a member of university or hospital staff adapting to homeworking?
The current pandemic brings with it a variety of challenges for University team members from all colleges, schools and departments. Similarly, NHS staff working in non-patient facing roles may also be having to adapt to new ways of working outside their usual hospital setting. 
For many people, this will be the first time they have worked at home for an extended period – or at all. Even those who are familiar with the home office may be tackling the joint challenge of working with childcare or homeschooling. 
We know that many of our colleagues will have partners, children and other family members working in key roles, too  – whether in the NHS, retail or transport – which can be a source of worry or confusion. 
As well as the University of Birmingham's intranet pages – which include FAQs on pay, leave and arrangements for students – we have collated some resources to make working from home easier, as well as helping maintain good health and wellbeing while out of the office. Our NHS colleagues can also refer to their respective intranet pages for advice and support.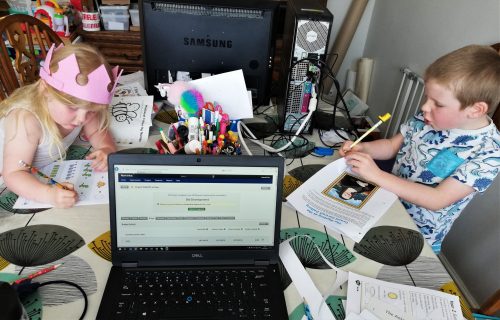 Most office-based workers are now officially based from the kitchen table, spare room, or a corner of another room. Here, we've summarised the BBC's top five ways of staying efficient and motivated when 'WHF'.
Get dressed: It's important to separate the different elements of your day and clothing is one way to do that. While you might be tempting to stay in pyjamas all day, there are then no clear boundaries between work time and relaxation time. You may also need to dress somewhat respectably for video conference calls. Get up, have a shower and change out of clothes that you wear for sleep and rest, even if it's just different casual clothes. When you down tools for the day, change into relaxation clothes to clearly demonstrate that the working day is over. 
Establish boundaries and routines: It might be tempting to have a 'lie in' and tell yourself that you'll work later into the evening when you would usually be commuting or going to the gym. But this approach risks you working either far more or far less than you usually would – neither of which are ideal. You don't need to work extra hours to 'overcompensate' or prove you can be trusted to work from home. Set a routine with the same times for getting up and going to sleep each day; confirm your working hours with your line manager and try to keep to them – switch off your computer and tidy away books or notepads. If you maintain a routine, it will become habit and therefore is easier to stick to. That being said, be realistic. If you have children or fellow home-workers in the house, there may be times when you just can't be as productive as planned or have to do something else instead. This isn't a failure; acknowledge that things may change and prepare to be flexible. Further tips for working around childcare are below.
Get out and about: As long as you're not self-isolating, take government advice to use outdoor spaces each day. A lunchtime walk (safely distanced, of course) will help you refocus and is good for your general health and wellbeing, too. This is especially important as, although many of us find commuting stressful, it does at least guarantee that we're out of the house for at least part of the day. 
Pick up the phone: Particularly if you live alone or other members of your household are key workers, you may find you spend most of the day alone – without background noise or general chat with colleagues, some people can find this isolating. Stay in contact with colleagues by phone or online video calls rather than relying solely on email. We know that many teams across UoB have set up group chats, lunchtime non-work Zoom calls or social nights to help maintain the type of social connections we experience when working in a team environment. 
Take regular breaks: It's easy to become 'glued' to your computer when working from home. Getting up to stretch, walk around the garden or take your daily exercise will help relieve some monotony. 
Even people who have worked remotely in the past have likely done so when the children are at school. So what happens when they're with you all day?
Be flexible: As we touched on above, setting a rigid schedule for your day may well prove impossible when you are also caring for your children. You may also feel balancing both responsibilities to be stressful, and feel guilty that you can give both roles 100%. Remember that virtually all of your colleagues with children will be facing the same challenges. If you accept that timings will slip, productivity may be lower than usual, and that neither of these things is a failure, may help. 
Be realistic: Under normal circumstances, preparing a report or important document may take you just a few hours – but when working from home, you may have to add a 'cushion' to this to ensure the deadlines you set yourself are manageable. IT connections may be weak, a child may be upset and take priority, or you may have to work around others' availability. Allow yourself to be patient with yourself and others, and to move goalposts if necessary. 
See the bigger picture: Especially when it comes to keeping children entertained, you may have to relax some usual rules around things like screentime. If you need time and space to concentrate, TV and games are not the worst thing. You may also see, particularly on social media, examples of parents who seem to be managing perfectly – completing all work tasks, keeping the house immaculate as well as homeschooling their well-behaved children. Remember that social media is highly curated and not everybody shares the whole truth!
Taking on teaching: You may feel pressure to ensure your child completes all the assignments their teacher has sent home – but this was likely done in a hurry. Almost all children are in the same boat and it's unlikely that your child will fall behind their classmates. Teach what you can, encourage them to research and be creative with their learning, and take time for life skills like cooking and gardening if you can. It's an opportunity for them to learn about things they're interested in and, if that doesn't exactly match the curriculum, it isn't a failure. See also: Becoming the teacher – hopes and fears taking on the job at home, a UoB blog by Colin Diamond, CBE. 
Split time with other caregivers: If you have a partner and they are also working from home, consider splitting the working day: one parent takes over childcare while the other works; join each other for lunch as a family; and switch after lunch. This may mean you need to alter your usual working pattern to fit in your contracted hours, but gives children equal time to enjoy with both parents while allowing adults some time to focus. Discuss any changes with your line manager to ensure it doesn't affect your team. 
You can also find lots of information on how to talk to your children about coronavirus and how to manage their own worries at this time, on our 'For Children and Parents' page. 
Pause @UoB is running a phone support service for any University of Birmingham students aged up to 25.
The service is open 7 days a week, 10am-6pm. Students can talk about anything at all, not necessarily related to university. It's a confidential service, staffed by qualified therapists. They can listen, advise, signpost and give coping strategies- whatever is needed.
Referrals can be made by emailing askbeam@childrenssociety.org.uk  or calling 02078 414470.
If you have had COVID-19, or are a researcher looking for patient perspectives, a new Facebook group has been established to discuss all aspects of research, for engagement, involvement and participation purposes. It can be found at Covid Research Involvement Group UK – please note it is not affiliated with our BHP members. 
Further reading and resources:
Mind: Coronavirus and your wellbeing
This advice from the mental health charity Mind covers: practical advice for staying at home; taking care of your mental health and wellbeing; support for work, benefits and housing; and a handy checklist for staying at home. 
Self-help leaflets from the University of Birmingham
Find advice here on topics including anxiety, compulsions, bereavement, sleeping problems and many other aspects of health and wellbeing. 
A 24/7, free text service for those who are struggling to cope and need immediate help. 
NHS advice on how to improve mental wellbeing by becoming more aware of your own thoughts and feelings and the world around you. 
An app for sleep, meditation and relaxation, with over 50 million downloads worldwide. 
An app which helps you to learn a mindful approach to life, and improve mood and sleep while reducing anxiety.
The world's first personalised meditation audio programme which assembles individualised plans based on your personality, feelings and mood. 
Thrive Inside with Smiling Mind
A special COVID-19 initiative to help you proactively support your psychological wellbeing while you're spending extended periods of time at home.
See also: