Professor David Adams, BHP Director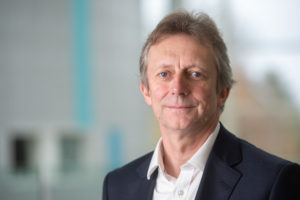 David's clinical interests are transplant hepatology and autoimmune liver disease. Laboratory research interests are focused on mechanisms of immune-mediated liver disease. After initial training in hepatology in Birmingham he continued his immunology training with Dr Stephen Shaw at the Experimental Immunology Branch of the National Cancer Institute, Bethesda, USA before being appointed to the Chair of hepatology in Birmingham in 1997. David is the current Pro Vice Chancellor, Dean of Medicine, and Head of the College of Medical and Dental Sciences, University of Birmingham.
David is Chair of the Birmingham Health Partners Executive Committee, a board member and offers strategic oversight in the development and implementation of BHPs development strategies.
Dr John Williams, BHP managing director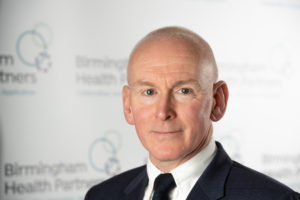 John has a wealth of experience from a career in academia researching Physiology, first in the UK, and then the United States, to a number of strategic positions in the professional biomedical sector at the research charity, The Wellcome Trust, and the Academy of Medical Sciences. These roles encompassed policy communication regarding major government reviews, launching strategic research initiatives as well as grant development and a strategic framework refresh of the Academy of Medical Sciences.
John's broad range of experience and insight developed over his extensive career in the biomedical sector is of great benefit to the partnership. Working with the Board and Executive, he coordinates the work of BHP on a day to day basis, managing the relationships with and between the partners, new and existing stakeholders and industry partnerships. Along side this John plays a central role in creating and developing the BHP business plan and delivering strategic objectives set by the Board.
Dr Emma Robinson, BHP Chief Operating Officer
Dr Emma Robinson qualified with a BSc (Hons) in Biological Sciences followed by PhD in Molecular Microbiology from the University of Durham. Emma continued at Durham to carry out postdoc research before moving in to the biotech industry and the Medical Research Council in Oxford.
Emma was appointed as Research Manager at the University of Birmingham Medical School in 2004, followed by progression to Head of Research & Knowledge Transfer for the College of Medical & Dental Sciences in 2008 before appointment as College Director of Operations in January 2010.
As Chief Operating Officer, Emma coordinates operational work with partners and stakeholders and provides executive support and guidance for the BHP Board and Executive committees. In addition to this operational role, Emma is the Secretariat to the BHP Board of Directors and sits as an Executive committee member.
Tim Jones, Executive Director for Innovation – University Hospitals Birmingham
With more than 20 years of service within UHB, Tim has board-level responsibility for Education, Research & Innovation. His main interests are leveraging digital enablement, patient co-production, service improvement for patient benefit and health and wellbeing science. His other roles align closely with these interests: he is also Senior Responsible Owner (SRO) for the West Midlands Genomic Medicine Centre, the NIHR Collaboration for Applied Health Research Centre, and the West Midlands Academic Health Science Network.
Tim holds an MSc in Healthcare Policy from the University of Birmingham, and is also an Industrial Professor at the University of Warwick where he is Course Director for the Healthcare Operations Management Masters' Degree.
Matthew Boazman, Chief Officer for Strategy and Innovation – Birmingham Women's & Children's Hospitals
An alumnus of the NHS Graduate Training Scheme, Matt is an experienced board-level NHS director who holds an MSc in Healthcare Management from the University of Birmingham. He joined Birmingham Children's Hospital in 2013 as Director of Strategy and Planning before becoming Chief Officer for Strategy and Innovation when BWC was formed in 2017.
Matt's areas of interest are maternal, infant and child health, rare diseases and genomics. Alongside his work at BWC, he leads the development of the children's work programme for the Birmingham & Solihull STP, as well as the West Midlands, Oxfordshire and Wessex genomics medicine consortium development.
Matt has held a variety of NHS roles including General Manager of the Whittington Hospital NHS Trust in North London, rising to Director of Operations, and has also worked overseas, as a member of the Aids Committee of Toronto in Canada.
Hilary Fanning, Director of Research Development and Innovation – University Hospitals Birmingham
Hilary manages the Trust's research funding portfolio and oversees a department of approximately 150  Research Directorate staff. Her department supports the full spectrum of research at UHB, including research grant preparation for submission for funding though to delivery of clinical and medical devices trials.
Her BHP executive role includes senior operational responsibility for developing and driving forward the research strategy of BHP.
Hilary qualified as a registered nurse in 1985, going on to specialise in renal nursing and has previously held a Senior Lecturer Practitioner post.  Prior to taking up her current post, she has provided senior operational leadership for a number of key Trust projects including, reconfiguration of surgical services, introduction of "hospital at night", electronic medical records for outpatients design and delivery and whole-site redesign of clinical services in preparation for the move to UHB's new £545m hospital.