Professor David Adams, BHP Director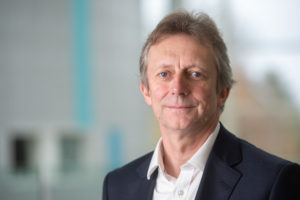 David's clinical interests are transplant hepatology and autoimmune liver disease. Laboratory research interests are focused on mechanisms of immune-mediated liver disease. After initial training in hepatology in Birmingham he continued his immunology training with Dr Stephen Shaw at the Experimental Immunology Branch of the National Cancer Institute, Bethesda, USA before being appointed to the Chair of hepatology in Birmingham in 1997. David is the current Pro Vice Chancellor, Dean of Medicine, and Head of the College of Medical and Dental Sciences, University of Birmingham.
David is Chair of the Birmingham Health Partners Executive Committee, a board member and offers strategic oversight in the development and implementation of BHPs development strategies.
Dr John Williams, BHP managing director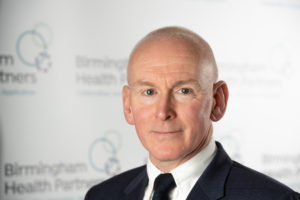 John has a wealth of experience from a career in academia researching Physiology, first in the UK, and then the United States, to a number of strategic positions in the professional biomedical sector at the research charity, The Wellcome Trust, and the Academy of Medical Sciences. These roles encompassed policy communication regarding major government reviews, launching strategic research initiatives as well as grant development and a strategic framework refresh of the Academy of Medical Sciences.
John's broad range of experience and insight developed over his extensive career in the biomedical sector is of great benefit to the partnership. Working with the Board and Executive, he coordinates the work of BHP on a day to day basis, managing the relationships with and between the partners, new and existing stakeholders and industry partnerships. Along side this John plays a central role in creating and developing the BHP business plan and delivering strategic objectives set by the Board.
ED SMITH, INDEPENDENT CHAIR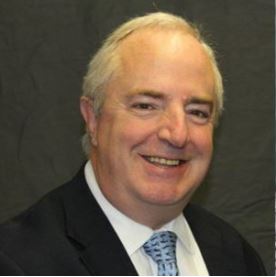 Ed chairs the BHP Board and works closely with the Chairs and CEOs of the partner organisations to drive the shared agenda of BHP. He is the former Pro Chancellor of the University of Birmingham, former Chairman of NHS Improvement and Deputy Chairman of NHS England.
His other current appointments include: Chairman of Assura PLC, the leading Primary Care property real estate investment trust; the Independent Non-Executive Director at PushDoctor; and Chairman of the HCA Healthcare (UK) Advisory Board. In other roles, Ed is Senior Independent Director and Chair of the Audit Committee of HS2Ltd, a member of the Euston Partnership Board and senior advisor to Saxton Bampfylde.
Prior to his portfolio of roles, Ed spent 30 years with PricewaterhouseCoopers in many senior UK and International roles. He is also a mentor to next generation leaders and a strong advocate for, and practitioner of, diversity and inclusion.